For every organization that currently works with a translation company or has worked with one in the past, there was a first time when they engaged a translation company's services. How did they decide which company to work with? Was it an easy decision? A struggle? Was the evaluation period lengthy or brief?
This consideration and decision-making process, that of selecting a translation company is perhaps especially important to newer organizations, those that will eventually require language services of some type. Still even established organizations with a multi-year track record of working with one or more translation vendors sometimes decide to switch and work with a different company for any number of reasons. In those cases there's again the question of which new translation company (or companies) should they choose?
Below we describe six factors for translation services consumers to consider in the process of selecting a translation agency.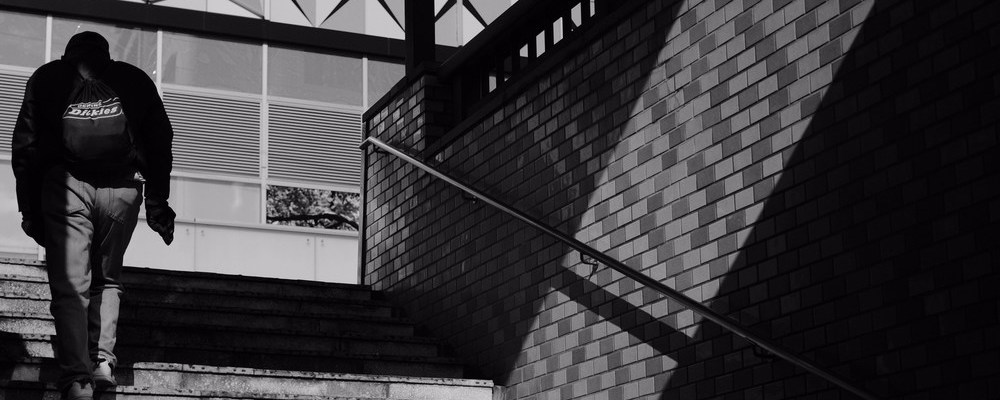 1) Responsiveness to Requests and Inquiries
Time is money it's long been said. While this worn out expression borders on the cliche, it's still often true.
When a translation requirement comes up to support an operational objective within an organization there's often not the luxury of an abundance of time. Typically the requirement needs to be met as soon as possible. So clients frequently look for near immediate confirmations to email or phone inquiries and thereafter for the shortest possible project schedules for translation projects once they're approved.
In our company, both new and established clients tend to begin projects by sending us the source files for translation. Generating quotes for simple projects can take as little as a few minutes. More complex projects, whether more complicated due to text volume or a requirement for an additional specialized service, might require up to a day in some cases to prepare a price and schedule. Simple quotes can be prepared in just a few minutes.
Clients understand the need for time to evaluate more complex projects but still want to be acknowledged soon after a request is made. An acknowledgement might be a return email, or phone call to confirm receipt of their request and provide an estimate on the expected time requirement to prepare and send them a quote.
Keeping clients sufficiently informed at each step of the project from quote request to final delivery is an indication of a company that's responsive and interested in their customers.
2) Availability of Experienced, Native-Speaking Linguists
There are thousands of languages spoken in the world today. Of those there are perhaps a dozen or so major languages that are part of most translation projects. Beyond these are a few dozen second tier languages that are not as frequently requested as the major ones, but still come up from time to time.
In addition to the many potential language combinations for translation projects, there are many possible subject matter specializations. These range from legal, technical disciplines, promotional text, and other categories. The implication is that translation companies require the ability to engage projects involving many different languages and subject matter specializations. If linguists are to be custom matched with the unique language and subject matter specializations for each translation project (and that's the objective), then access to a significant linguistic talent pool of professional translators is essential.
Some of the most popular languages for translation projects include (in no particular order) Spanish, French, Portuguese, German, Russian, Arabic, Chinese, Japanese, and Korean. Popular broad subject domains for translation include legal, technical, medical, manufacturing, marketing, financial, education, and many of even more narrow subject domains.
Developing this pool of resources is generally something that translation companies develop over years. Ultimately the go-to translators for a particular company are project-tested, having stood the test of time over many successful project completions.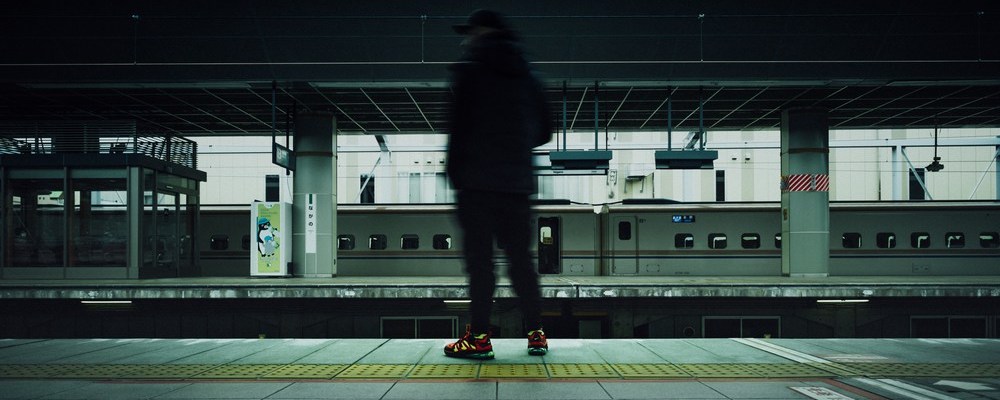 3) Structured Quality Control Process
If translation quality is an important factor for consumers of translation services then a translation company's quality control processes and procedures are important to ask about when evaluating translation companies. The quality of translations produced and delivered by a particular company correlates strongly with the process they have in place and use as their standard operating procedure.
There are several standard practices that we've seen advertised by companies providing high quality human translation services. They're listed below with a brief description:
1) Translation only: An assigned translator prepares a translation and delivers it to the client.
2) Translation and self-proofreading: An assigned translator prepares a translation and conducts their own separate independent proofreading of their work prior to completing the project.
3) Translation and second translator proofreading: An assigned translator prepares a translation then subsequently a second translator conducts a proofreading of the first translator's work and generally makes revisions to improve the translation quality.
4) Translation, editing, proofreading (TEP): A multi-step translation preparation process similar to #3 above but with an additional final proofreading prior to project completion. At least 2 linguists are involved in the process.
Although translators must have skills in each language of the language pair they work in (e.g. English-Japanese, English-Spanish, etc.) their first language (native language) is considered their strongest language. In most cases it's preferred that translators be native speaking in the target language. Sometimes there are exceptions to this rule, most often in some Asian languages and other more rare languages.
4) Competitive Pricing (Not Necessarily The Lowest)
The cost of translation services are reasonably one of the criteria customers consider when making a selection about what language services company to enlist. However, if language services were truly a commodity service (e.g., differentiated only by price) then translation work would be awarded to the lowest bidder for every project. Translation services are not commodities, interchangeable and equivalent no matter the vendor.
When a translation vendor's pricing is lower what are the possible explanations? It could mean that the lower priced translation vendor is strategically content to earn a lower profit margin on each project. Or more concerning to clients, it could mean that corners are being cut, that their quality control processes are less stringent compared to those of other companies.
Depending on the level of support services required by translation clients, a lower overhead translation vendor (with correspondingly lower prices) might be a viable company to hire, or at least test out with a few projects. If a higher level of support is needed then vendors with more overhead (and correspondingly higher prices) might be best for some clients.
These are pricing considerations to be weighed by each client depending on their needs and situations. It's likely that a particular company's price/benefit ratio will best align with the needs of a certain group of clients. Engaging projects with several vendors on a trial basis might be a good approach to narrow the list of translation vendors choices.
5) Professional Operations
Can judgments be made about a translation company based on its observable general operating practices? How does the company represent itself to the public? Does it portray an image of professionalism?
The observable operations of a translation company including its website, the presentation of its materials, billing and payments, office location, to mention just a few things, can be considered to send important signals to prospective customers. Companies that are invested and attentive to their overall operations tend to be invested in their translation processes as well. This rule might not be without exception, but in our experience it's more often the case that professionally managed and operated translation companies deliver professional work results too.
Questions about completed translation projects can come up post-delivery. How do companies respond? The response time to questions and seriousness of attention given to them may be factors to pay attention to. Professionally operated companies will provide prompt responses to questions. They rightfully recognize the long-term value to their businesses of each customer and will do what they reasonably can to ensure satisfaction over time.
Does the company make an effort to stay in touch with their clients between orders for translation projects? Newsletters, periodic updates, and other similar communications are indications of interest in maintaining contact. A company that maintains contact tells clients they're important to the company, and that also they're likely to be a more stable provider of services in the long run. Translation companies that maintain sound business practices are more likely to remain in business and be available to provide services that meet their clients' needs.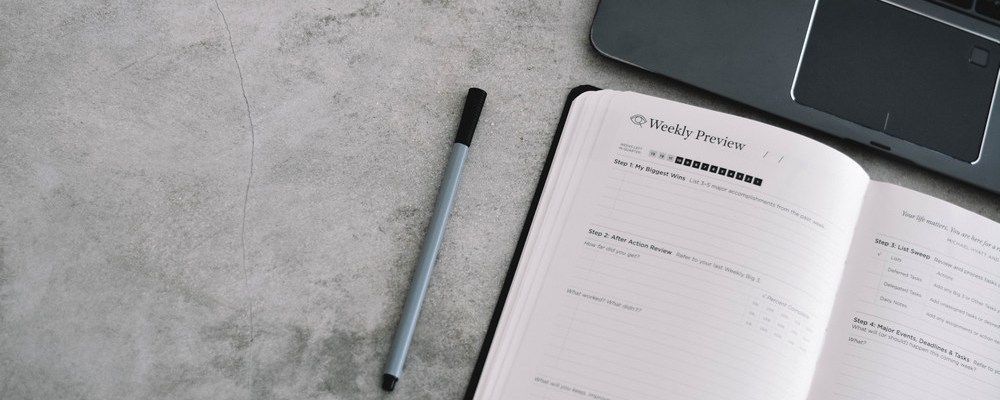 6) Positive Overall Working Interactions
There's an intangible quality associated with every business contact client companies engage in. Some vendor interactions are pleasant, even enjoyable to engage with, and others are not so much. So one quick test is: does interaction with the vendor have the effect of bringing you up … or down?
Selecting a translation vendor can be that simple (although not really simple at all). A final determining factor for some clients will be how much they like doing business with a translation company, especially if other more objective metrics measure up favorably. If the interaction process is friendly, efficient, uplifting even, there will naturally be a tendency to want to continue doing business.
Is there ever a chance for translation services customers to meet with companies face-to-face? This is not always possible in today's age of electronic communications and business interactions, but when it's possible face-to-face client meeting can help to cement business relationships and facilitate the process of doing business electronically thereafter.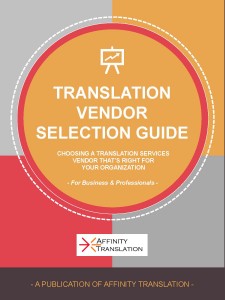 (click to download the above pictured guide)
https://www.affinitytranslation.com/wp-content/uploads/2020/01/affinity.translation.blog_.11.png
300
300
admin
https://www.affinitytranslation.com/wp-content/uploads/2014/11/logo2735699_md.reduced.jpg
admin
2020-02-24 10:15:08
2020-03-24 09:56:38
How To Evaluate and Select Translation Agencies